Catharine Roth
SCC/SFCC Instructor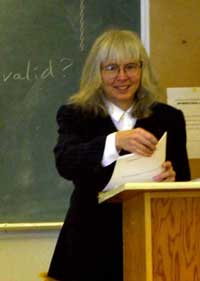 Thank you for visiting my website. My name is Catharine Roth, and I am an adjunct philosophy instructor at Spokane Community College and Spokane Falls Community College.
Contact Information
Telephone:
(509) 533-7474 (SCC) or 533-3462 (SFCC)
Email:
CRoth@scc.spokane.edu
Offices:
SCC Building 1, Room 215E
SFCC Building 24, Room 341
Office Hours:
By appointment



Copyright ©2002-present. All rights reserved. Information on
this page is the responsibility of the page author
and not that of Spokane Community College.
Please send comments to CRoth@scc.spokane.edu.