Brief Biography:
Catharine Roth
Education:
Radcliffe College, Cambridge, Massachusetts: A.B.
Newnham College, Cambridge, England: M.A.
Harvard Graduate School of Arts and Sciences: Ph.D.
Solano Community College: Certificate in Small Business
University of California at Davis Extension: Certificate in Legal Assisting
Teaching Experience:
University of Washington: four years, full time
University of California at Irvine: one year, full time
University of Dayton (Dayton, Ohio): two years, part time
Wittenberg University (Springfield, Ohio): three years, part time
University of Maryland (Germany): three years, part time
University of California at Davis: one quarter, part time
Community Colleges of Spokane: since 1999, part time
Eastern Washington University: two years, part time
Scholarly Projects:
Translated some Christian Greek texts for St. Vladimir's Seminary Press
Translated Byzantine Greek statements of faith for Creeds and Confessions of Faith in the Christian Tradition, Co-editors: Jaroslav Pelikan and Valerie R. Hotchkiss (Yale University Press, 2003)
Annotated Latin texts for Transparent Language (language-learning computer program)
Managing Editor for the Suda On Line project (Byzantine Greek encyclopedia): http://www.stoa.org/sol
Family:
Husband: Gregory E. Roth, retired from U.S. Air Force, Ph.D. from the International Marian Research Institute, teaches at SFCC and SCC
Son: Nate Roth, graduate of the University of California at Davis, graduate student at U.C. Davis and father of two boys
Daughter: Margaret Roth, graduate of Whitman College, graduate of the Cornell University School of Law, attorney in the Office of Legislative Counsel for the U.S. Senate
Brother-in-law: Jim Roth, English Department, SCC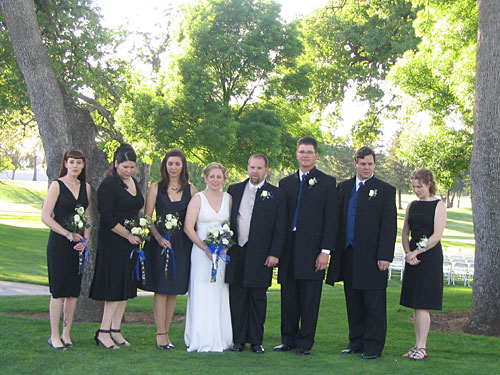 Nate and Andria, wedding party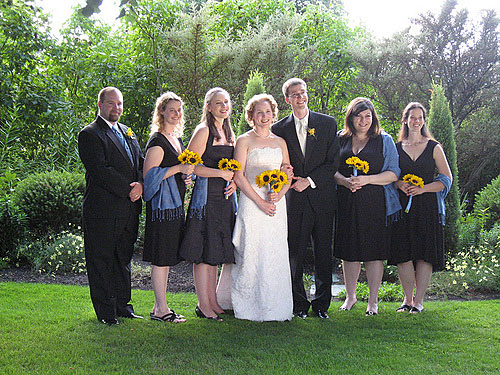 Margaret and Scott, wedding party

Margaret the graduate with her brother,
proud parents and grandmother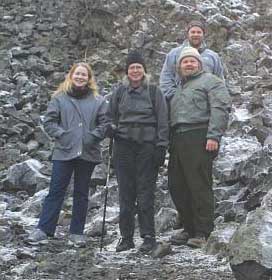 Roths at Deep Creek Canyon,
November 2002
Hobbies:
Music: SFCC Community Band
Skiing, snowshoeing, hiking: usually at Mt. Spokane
Scottish Country Dancing



Copyright ©2002-present. All rights reserved. Information on
this page is the responsibility of the page author
and not that of Spokane Community College.
Please send comments to CRoth@scc.spokane.edu.