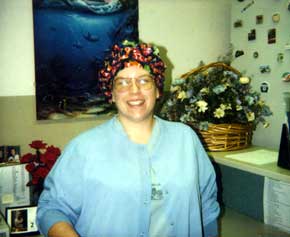 Just another friendly face
in the OR at Sacred Heart
Medical Center

Becky Scheid, CST/RST, M.Ed.

Professional Interests
Since my graduation from SCC's Surgical Technology program in 1987, I have been employed at Sacred Heart Medical Center in the main OR. I am considered a generalist in the OR and continue to practice my skills and stay updated in the field as well as in new technologies.
I began working as an instructor at SCC in the fall of 1990. My interest in teaching began as a preceptor (clinical instructor) shortly after my graduation. Since I began my teaching career, I have also continued my education. I completed my A.A. from Spokane Community College in 1997 and went on to complete my B.A. from Eastern Washington University in June of 2005. I completed the requirements for the Masters of Education degree at EWU and graduated with three other Allied Health faculty members in June of 2010.
I have been involved with the Association of Surgical Technologists at both local and national levels as a resource person and committee member (LCC-ERC). I have maintained my national certification since I acquired it in October of 1987.
Contact me with any questions about surgery or the Surgical Technology program.
Sharing information with local daycare students about the "Why's" of
our strange clothes and how surgical technologists help the surgeon.

Since the beginning of our relationship with Osaka Colleges of High Technology in Osaka, Japan, the faculty, staff and students have had a chance to work with hundreds of Japanese students in a three-day exchange program here on our campus. Most of the coordinators have been given the chance to visit our sister college for a one- to two-week exchange to discuss our programs and and their place in the U.S. health care system


Views of the Golden Palace,
one of several very beautiful shrines near Osaka


Becky, Gary White, and Director Hashimoto
at Osaka College of High Technology,
Summer 1996


Becky talking about surgical technology
and health care in the U.S.