Gary White,
SCC Instructor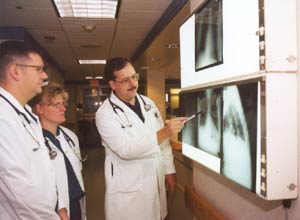 Welcome to my personal home page. I'm Gary White, the Director of Clinical Education for Spokane Community College's respiratory care program. I have been practicing as a therapist since 1976. I find my discipline, respiratory care to be very rewarding and challenging. It is a dynamic field combining high technology with direct patient care. I really love my field and especially enjoy sharing it with others.
I have taught at Spokane Community College since 1992. I am responsible for several courses including the fundamentals series, cardiopulmonary anatomy and physiology, cardiopulmonary pathophysiology and the pulmonary diagnostic course series. When the courses have clinical components, I also teach those components in the local hospitals, physician's offices and alternate care sites. If I reflect on all of the things I must do as a faculty member, what I enjoy the most is working with my students. I enjoy helping students learn about my field and how to most effectively work with patients to achieve the desired clinical outcomes.


Copyright ©2000-present. All rights reserved. Information on
this page is the responsibility of the page author
and not that of Spokane Community College.
Please send comments to GWhite@scc.spokane.edu.