Hobbies/Special Interests:
Gary White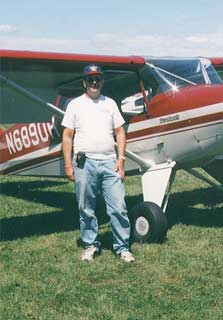 Yours truly standing in front of
the prototype Bearhawk at
Oshkosh, Wisconsin (1997)

Flying and Airplanes
I am a private pilot and enjoy flying light aircraft. I am a member of the G-Force Flying Club, LLC:
http://www.gforceflyingclub.com
...and fly the club's American Champion Aircraft Decathlon when I can spare the time.
I am also building my own airplane, a Bearhawk, from a set of blue prints.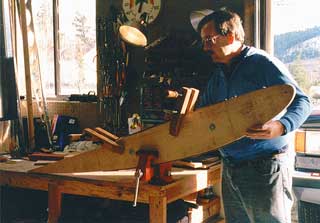 In this photo, I am hammer-forming a center
section rib for the right wing; I have formed
162 ribs from raw material (sheet aluminum)
for the wings.
Skiing
When winter sets in and conditions are (instrument meteorological conditions) IMC, I'm on the slopes. Spokane is fortunate to have a variety of resorts within very short driving distances. Skiing is a winter sport enjoyed by all of my family and gives us a great excuse to do something together every week during the winter.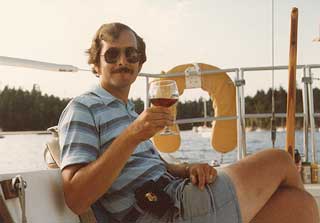 Skipper Gary at Nanaimo, B.C.

Sailing
I am a dinghy sailor from way back when. I own a small sloop, a Blue J class boat named d'autruche. The boat is great for spinnaker training and just plain fun. I also occasionally charter larger boats and cruise the San Juan and Gulf islands.


Copyright ©2000-present. All rights reserved. Information on
this page is the responsibility of the page author
and not that of Spokane Community College.
Please send comments to GWhite@scc.spokane.edu.