Amy Farrell, Instructor
SCC Communication Studies
Office:
Phone:
Email: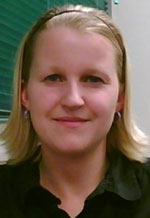 I'm thrilled to be teaching Communication Studies classes here at Spokane Community College. Our diverse student population brings unique experiences and personalities to the classroom! Since I received my associate's degree and communication certificates from the Community Colleges of Spokane, I have a special place in my heart for this institution. I transferred to Eastern Washington University where I received my bachelor's degree in Organizational Communication. I did my graduate work at Gonzaga University, where I received my master's degree in Communication and Leadership studies.
I've worked in the communication and business consulting field for several years which has given me practical hands-on experience to utilize the skills I learned in school.
My special areas of interest in Communication Studies include: Interpersonal Communication, Business Communication, Conflict Management, Intercultural Communication, and Small Group Communication. I feel blessed to be able to share information, experience, and compassion with the students in my classes. I hope that they each can take something that they've learned in class and use it to better their personal and professional lives.

Copyright ©2010-present. All rights reserved. Information on this page is the responsibility of the page author and not that of Spokane Community College. Please send comments to AFarrell@scc.spokane.edu.